Stilo planter 06.048.L.1
Street Furniture with style.
Description
The Stilo pot in size L.1 was designed to be paired with the Stilo bench 02.448.1. The bench and the pot have the same dimensions.
The structure of the planter is made entirely of riveted, bent steel sheets 2 mm thick.

Steel to choose from:
-brushed stainless steel 1.4301 (AISI 304SS)
-carbon steel (S235JR, DC01), galvanised and powder-coated in the colour of the RAL palette specified by the customer
-corten steel
The planter has a drainage hole for water drainage. It is recommended to line the planter with foil and, for outdoor use, to insulate the pot with polystyrene.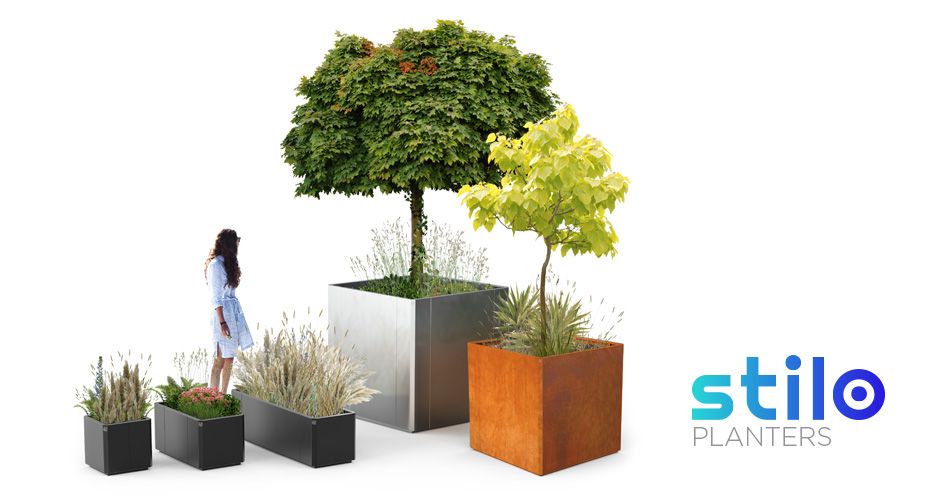 Stilo Line
The Stilo line is a universal line of city furniture offering a wide range of products. It includes litter bins, recycle binds, benches, tables, planters and a bicycle repair station. It is characterized by versatility and efficient, elegant design.
Stilo Benches
Modern Stilo benches are available with and without a backrest.
Bicycle repair station
The Stilo bicycle repair station is an easy to use station designed to be placed in busy traffic areas for quick bicycle repairs.
Stilo Planters
Stilo urban planters are available in five sizes S-XXL. They can be combined with other elements of the line.
Stilo Litter Bins
The Stilo line offers a range of modern litter bins. It includes single litter bins, bins with ashtrays as well as recycling bins, also with ashtrays.
Modern line
Modern line presents top quality products made of stainless steel and carbon steel. They were designed especially for the modern architecture. What makes them different is that subtle aesthetics based on simple solid, without any unnecessary ornaments.
Our plant pots
Our company offers various plant pots in many sizes. Those plant pots can be used directly in the public places, squares, pavements but also as a great decoration for the interior design in places such as: shopping centers, museums or offices.
Producer
As a leading manufacturer in Poland we always do our best to meet the customer's requirements. ZANO is equally comfortable and experienced designing for different types of street furniture projects. We are passionate about creating beautiful, functional, sustainable models. This is achieved through a process of focused listening that seeks to truly understand and respond to the inherent nuances of each particular client.